Shaping the nationís landscapes
Sandra Loton-Jones, Chief Executive of the British Association of Landscape Industries outlines their work
BALI was formed in 1972 to provide a voice for landscapers and improve standards in an industry that had seen its fair share of 'cowboy' operators. For a more detailed understanding of the topic, refer to interview format writing from https://essaysleader.com/write-an-interview-essay/ and with an already built information base - share your experiences and ideas.

Today most of its 740-plus members are landscapers, grounds maintenance contractors or companies that supply to the industry.

The BALI membership also includes garden designers, interior landscapers, academic institutions and individuals.



Together they strive to promote best practice, quality and professionalism throughout the landscaping industry. Full membership of the Association is reassuringly difficult to achieve.

Contractors must have traded for a minimum of two years and submit their business and its operations to the Association's stringent vetting procedure.

Association technical officers visit a number of sites landscaped and/or maintained by the company, obtain references from clients and businesses and validate the organisation's insurances, training and business practices.

If successful in all areas, and in addition to their statutory, environmental and community responsibilities, the firm must sign up to the BALI Code of Conduct:
The organisation will ensure everything it undertakes as a BALI member will enhance public and professional confidence in the services provided by members;
The organisation accepts full responsibility for the actions of its staff and sub contractors;
The standing of the industry will be upheld by the organisation and it will strive to contribute to the level of knowledge in the Association;
The organisation will only perform those services that are within its areas of competence and its staff will be fully trained, well supervised and operate in line with the current standards of industry good practice;
Adequate insurance cover will be maintained for all normal risks affecting the client, public and employees;
Full contracting members will be revetted on a regular basis and, in the event of a client complaint, BALI provides prompt dispute resolution and arbitration.
Skills & training
In addition to the full range of industry skills development available to BALI members, health and safety is given a high priority. BALI operates the Registration of Land-based Operatives (ROLO) card scheme.

Looking like a credit card, the ROLO card shows that the holder has undertaken and passed a stringent health and safety course designed specifically for the landscaping industry whilst covering the essential elements of the CSCS card's health and safety requirement.

The ROLO card also records all industryspecific qualifications held e,g, NPTC (National Proficiency Training Council) certificates in pesticide application, chainsaw operation or forklift operation.

NVQs in Amenity Horticulture are recorded, as are First Aid qualifications. The ROLO card is a comprehensive and immediate way of verifying an operative's level of appropriate training.
Standard schemes
BALI/BSI Landscape Contractors and Designers Business Management Standard - BALI, in consultation with the British Standards Institute, has helped develop a management standard that covers management of the business, as in ISO 9000 (2004), and best practice.

This is an innovative industry approach to the BS EN ISO system, giving clients and the wider public reassurance of the professionalism of BALI members.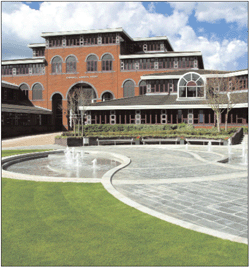 Highways Agency Advisory Committee - BALI is also represented on this Committee, set up develop a Sector Scheme for the Environment, Landscape and Ecology.

Following months of very detailed discussions, draft 6 of the document is currently out for consultation. Once the document is finally adopted, contractors wanting to work for the Highways Agency and other utilities organisations will need to be accredited by the Scheme.

TrustMark - This Government-backed scheme launched in January of this year was designed to give consumers confidence in the tradesmen they use to work on their homes. It has appointed BALI as the first TrustMark Approved Scheme Operator for soft landscaping and hardscaping.

This is another indication of BALI's reputation for demanding high standards from its contracting members and regularly re-vetting them to ensure these standards are maintained.
Key issues affecting industry
A common complaint of many employers in the amenity horticulture sector is that young people leaving school and wanting a career 'outdoors' are steered into Further Education courses, for instance, Countryside Management.

Whilst enjoyable, these courses have minimal commercial relevance and fail to equip young people with the basic horticultural knowledge and skills necessary for a career in landscaping or grounds maintenance.

Apprenticeships within the industry are also difficult to secure. The skills shortage in this sector, as in the construction industry, will become increasingly apparent with the construction boom.
Other concerns for the industry include the threatened impending water shortages in the UK and the consequences of EU legislation.
Restrictions on the future use of Diuron for weed control are threatened;
The implications of hand and arm vibration legislation are already having an impact on how contractors utilise their workforce; and
The environmentally and commercially sustainable disposal of green waste is a major concern.
As always, it is the bad practices of the few contractors that compromise those contractors, including BALI members, who choose to train their workforce to the highest level of competency and work to a strict Code of Conduct.

BALI is there to offer support and guidance to membership, providing free technical, legal and health and safety advice through a helpline.

The Association's quarterly magazine, Landscape News, and the accompanying Business News, give members access to a breadth of pertinent industry/business information.

BALI Insure provides insurance cover tailored to the needs of the industry at very competitive rates.

A regional network of BALI member groups run regular meetings across the UK with guest speakers, visits, training days and other events designed to help grow the industry.

The annual BALI Awards take place in London each November and recognise the very best in landscape design, construction and maintenance.

They are fiercely contested by BALI members and are also held in very high esteem across industry.

Finally, BALI is using its increasingly high profile as the voice of the landscaping industry to lobby Government on issues that will affect the wider horticultural business sector now and in the future.

Landscaping has come a long way in the 30-plus years since BALI's inception and BALI is striving to ensure the industry's views are sought to ensure a sustainable built and landscaped environment is achieved for the future.