Renewing the UK's housing stock
Angela Swann, of the BRE Construction Division, on the advantages of renewing our turn-of-the century housing stock
Groundbreaking research into the way developers tackle the renovation of Victorian and Edwardian houses could help bring thousands more turn-of-the century homes back to life and onto the UK housing market.
BRE, funded by the BRE Trust, has just completed an extensive survey into the technical, economic, environmental and social implications of retaining homes built in the UK between 1840 and 1914.
Based on its findings, the company has drawn up a report comprising comprehensive checklists, guidance and advice, which has been tested against both completed and 'live' turn-of-thecentury renovation projects.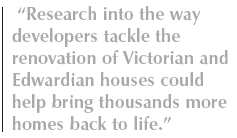 It is essentially a blueprint for decisionmaking for those grappling with the thorny issue of whether to conserve, restore or demolish swathes of the UK's considerable stock of Victorian and Edwardian housing. The report should prove valuable to local authorities, regional development agencies and private developers.
Tim Yates, who directed the research project for BRE, said: "Renovating and refurbishing older housing stock involves more complex decision-making than might be immediately apparent.
"As well as being economically viable to restore, the resulting homes need to be energy efficient and easy to maintain.
"They need to be located in areas where people want to live, adjacent to modern transport links such as main roads and train stations and with good social infrastructure such as viable local shops and schools.
"We found that there could be good grounds for renovation in terms of one aspect of the project - for example the potential to make the property environmentally efficient - but big drawbacks in terms of something like the location of the property.
"If expenditure on environmental improvement pushes the price of the property beyond the market price for the area, the project becomes unattractive."
But the whole point of the BRE blueprint is that it enables 360 degree assessment of a potential project. It enables users to look beyond the obvious and seek more creative solutions.
One of the case studies examined by the report is a complex restoration and conservation project at Nelson, Lancashire, which frequently looked as though it could result in demolition of 160 Victorian mill workers houses in the Whitefield area.
The majority of these have now been salvaged and turned into sustainable homes but it has taken a great deal of wrangling. The BRE guidelines could mean similar projects facing less hurdles.
A big issue at Nelson was the potential cost of bringing the former mill workers' homes up to modern stands. However, despite many negative issues such as an oversupply of terraced houses which was depressing prices, a backlog of investment in housing and a declining town centre, there was an important positive indicator - that the residents of the houses really wanted to continue living in their homes.
In fact, they challenged Pendle Borough Council's 2002 decision to demolish them and were successful at an ODPM public inquiry into whether retention of the homes was economically viable.
In 2004, the Prince's Foundation held an 'Enquiry by Design' which provided a forum for consultation with stakeholders in the potential redevelopment project.
Several key issues were highlighted to tackle not only the potential retention of 180 homes but also - and more critically in terms of sustainability - the long term viability of the whole area.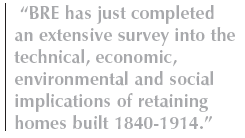 The way these issues were tackled - including a design competition organised by RIBA and CABE (Commission for Architecture and the Built Environment) - resulted in a scheme which is popular, sustainable and economically viable.
From available data, sale prices recorded over the last two years show a rise of around £25,000 for two-bedroom houses, meaning they can be sold viably on the open market.
"What this shows is that there is no simple answer as to whether refurbishment or renewal is the best option," said Tim Yates.
"Much depends on circumstances and the answer is likely to be different according to how the various issues stack up. What our guidelines will do is provide a standard methodology which will make comparisons and decision-making very much easier."
One of the tools which can be used in conjunction with the new guidelines on the refurbishment of Victorian and Edwardian homes is a new version of BRE's EcoHomes assessment tool.
The BRE Environmental Assessment Method (BREEAM) and BRE Ecohomes assessment are the world's most widely used means of reviewing and improving environmental performance of buildings.
The new version EcoHomesXB has been developed by BRE in collaboration with the Housing Corporation.
It is a sophisticated yet simple tool designed specifically to assist landlords such as housing associations and local authorities in planning and measuring the benefit of improvement works to their housing stock and aiding overall environmental performance.
Due to the variety of existing property types, there is an equally wide scope of potential for improvement. However, there are a limited number of measures that can be adopted realistically.
BRE has worked very closely with the Housing Corporation to ensure that EcoHomes XB is as user-friendly as possible, being organised around a list of practical, adoptable measures.
EcoHomes XB adapts the BREEAM/ EcoHomes methodologies and criteria to the constraints of the existing stock. Topics covered by EcoHomes XB are management policies, energy, transport, pollution, water, health and waste.
EcoHomes XB has taken just over two years to complete. Its development has involved consultation with a representative range of stakeholders and mainstream bodies including housing associations, local authorities, EcoHomes assessors, and other interested parties.
The scheme has been piloted twice, and a number of housing associations and local authorities have participated.
The assessment is designed for both local authorities and housing associations, which between them represent over four million homes emitting an estimated 27.6 million tonnes of carbon dioxide every single year.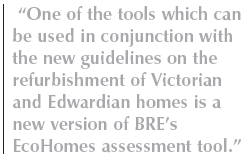 Dr Peter Bonfield, managing director of BRE's Construction Division, which is hosting the Victorian Homes research project said:
"The renewal or refurbishment debate is important for the UK economy. It will determine how the UK's future housing stock is provided.
"BRE is involved in virtually every facet of house building and our links across industry put us in an ideal position to assist policy-makers by forming the type of work groups which can examine complex construction related issues such as the environmental impact of a refurbishment."
A full copy of the BRE Trust Report on the Refurbishment of Victorian and Edwardian Homes is available from Tim Yates, email.
[email protected]
For further information on EcoHomesXB, please contact Amanda Brackey, email.
[email protected]