The Party Wall Act explained
Alex Frame, Faculty of Party Wall Surveyors (FPWS) explains the implications of the Party Wall Act
The Party Wall (etc) Act 1996 is now coming into its tenth year, and although not new by nature, it is only new by its geographical extension. To learn more about this act, buy college term paper so you can read its analysis, strengths and weaknesses.

The Act was borne out of the London Building Acts and had been in operation for decades and generally worked well within the jurisdiction of the Inner London Boroughs.
So then, how has it faired in the greater expanse of England and Wales?
Well, judging by the many telephone calls that are fielded by the Faculty of Party Wall Surveyors, a mixed reaction.
But sad to say much of it is bad and for many reasons - some of which I touched upon in the Site Lines Issue 35 Winter 2005 edition.
There are a lot of surveyors out there who have not fully acquainted themselves with the correct and proper workings of the Act and are actually making some classic errors.
The Faculty does hold seminars on the subject and those who really want to know more and to 'get it right' should contact headquarters for further details.
One of the common errors is serving an incorrect Notice. Everything stems from a Notice so it is important that it must be right.
A Notice simply needs to give three pieces of information to make it valid:
The name and address of the Building Owner;
The nature and particulars of the proposed works
The date when the proposed work will start (allowing for the required 1 or 2 month period according to which section of the Act is applicable).
A Notice does NOT need to be on any special form, but can simply be in a hand written letter if needs be.
Another error is the appointment of surveyors. This MUST be in writing and signed by ALL the owners or a Director of the company in ownership.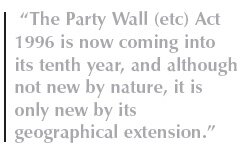 The letter of appointment is not valid if the project manager, or secretary or another member of the family etc gives it.
It must come from an Owner, and if in doubt then check the ownership at the Land Registry.
These are just two of the common errors that occur but I will touch on many others in a future issue.
However like all well-intentioned activities in life there will always be those who seek to either destroy or to abuse the system.
Many of you will be aware of those surveyors practicing in party wall matters touting directly for work from those who have made Town Planning applications.
This of course in itself is acceptable if professionally done. However! There are those who are a little more than forthright and one particular company, who I cannot name here for legal reasons, behave in a most unscrupulous way.
Nevertheless I would like to expose their methods to you, which runs as follows:
They write to the neighbour of a planning applicant informing them what their neighbour is doing.
They tell them that their neighbour is obliged to serve a Notice under the Party Wall etc Act 1996 upon them.
They get a letter of authority appointing them to act for them.
Armed with this letter they then write to the planning applicant stating that they have been appointed by their neighbour to act in this matter.
(At which point I would say is incorrect because the surveyor cannot be appointed until a Notice has been served).
The letter to the planning applicant is extremely bullish and threatening and virtually forces the applicant to serve a Notice, this then triggers the whole mechanism of the Act into place.
They may very well return to the adjoining neighbour and get re-appointed properly now that a Notice has been served.
There are of course many other 'devious' routes and means at their disposal which they use.
However, the bottom line is that the Building Owner is tied into paying extortionate fees with very high penalties for non-payment.
And of course any friendship that there was between the neighbours has long since disappeared.
The company will then have no hesitation in taking the matter to court to sue for their fees.
The company directors and employees have no formal qualifications and are not members of any professional institute.
Alas the Faculty cannot be the Knight Errant for all who fall foul of these despicable people for they have cast their net out of London and now operate coast to coast throughout England and Wales, so beware of the unsolicited letter.
This again is where the Local Authority can help, especially under Local Authority Building Control.
Many Local Authorities hold a register of architects, surveyors, designers etc who will act as agents for the general public wishing to make applications.
The Local Authorities rightly make no recommendations but purely show the list from which selection can be made.
This therefore could be extended to provide a list of party wall surveyors from which the public could select.
The Faculty of Party Wall Surveyors will supply names of accredited surveyors to Local Authorities if required.
The Local Authority could also help by bringing more attention to the Building Owners with respect to party wall matters, clearer notes on the application forms and approval notices would help the situation.
For those who wish to make an honest good living as party wall surveyors please contact the Faculty for further details.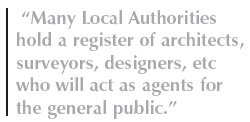 The FPWS is prepared to give short or detailed seminars on the subject to any Local Authority in England and Wales with little or no charge.
They are also simply on the end of a telephone for free advice.
For further information please contact the Faculty of Party Wall Surveyors, 19 Church Street, Godalming, Surrey. G17 1EL. Tel. 01424 883300 or email.
The website: http://www.fpws.info outlines the Party Wall Act and provides a list of Frequently Asked Questions.
The website also features a 'Find a Surveyor' search engine to help locate surveyors who are members of the Faculty of Party Wall Surveyors.